Dr Damian Lloyd
Coal miner to Dental Surgeon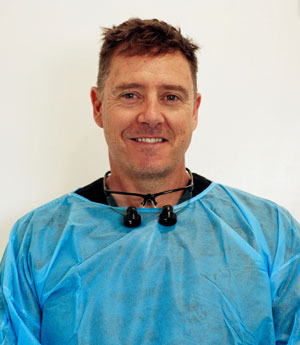 Dr Damian Lloyd is a local Novacastrian, growing up in Lake Macquarie and attending Warners Bay High School. After high school Damian took an apprenticeship as an electrical contractor in the coalmines, but got itchy feet and took himself back to complete Year 12 for a career change.
Dr Damian Lloyd obtained his degree from Sydney University in 1997. During his undergraduate training, Damian took a keen interest in oral surgery and implant dentistry, often volunteering days in the Oral Surgery departments at Westmead and Sydney Dental Hospitals, developing his surgical skills before graduation.
Since graduation Damian has continued to further his interest in oral surgery and implant dentistry by regularly attending continuing educational lectures, seminars, conferences and workshops.
Dr Damian Lloyd has surgically extracted more than 20,000 wisdom teeth and is accomplished in most minor oral surgical procedures. He also has taken a keen interest in mentoring many less experienced colleagues.
With the number of completed implant cases now in the thousands, Dr Lloyd is highly experienced and works with the most renowned implant systems. He is proficient in all aspects of surgery including soft tissue and hard tissue contouring resulting in the most pleasing cosmetic outcomes.
Damian has been the regular dental surgeon for our Sleep Dental Team at Charlestown Dental for the last eight years, with a reputation for his compassionate and caring manner. He has been attending Lingard Hospital for the past 11 years for dental treatment under general anesthesia, and has a theatre list there most weeks. Even the most anxious of patients have had their expectations exceeded in finding their dental experience to be surprisingly comfortable in this setting.
Damian is married and has five young children. He is a bit of a rev-head, always on the lookout for some classic wheels to do up, and enjoys surfing and working out or a weekend camping out in the bush in his spare time.
Dr Stephen McKay
(Specialist Anaesthetist) MB BS  FANZCA
Dr Stephen McKay is a Specialist Anaesthetist who trained in Medicine at St Vincents Hospital, Sydney. He then specialised in Anaesthesia at Westmead Hospital, Sydney.
Stephen has been in the Hunter Region since the end of 1985, providing specialist services to both public and private hospitals, including working with Dr Damian Lloyd at Lingard Private Hospital (General Anaesthetic procedures) for 11 years and Charlestown Dental Surgery (Sedation Anaesthesia procedures) for the last 7 years.
Stephen is married to Ronelle and has 4 adult children and 5 grandchildren.
Stephen is keen bushwalker, fly fisher, naturalist and enjoys water sports such as fishing, boating and surfing.
Hugh Bonney B.N.
Newcastle Uni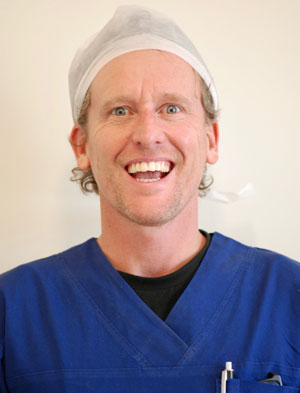 Graduating from Newcastle University in 1998, Hugh began his nursing career at the John Hunter Hospital. Hugh spent many years on the IV access team, inserting PICC lines and educating staff on IV insertion and management.
In 2008, Hugh moved into the Anaesthetic Department at Lingard Private Hospital where he remains to this day. Hugh is also part of the general anaesthetic team working alongside Dr Lloyd at Lingard Private Hospital. Hugh's skills in Airway Management and IV Access are an asset to the Charlestown Dental Surgery team which he has been a part of since it commenced in 2010.
Hugh is a proud Novocastrian. He is married to Joanne and has 2 children. Hugh is a keen Triathlete, placing 10th at the World Championships in Chicago in 2015.
We are proud to have Hugh as part of the Charlestown Dental Surgery team even though he is sending us broke with his coffee and cake consumption.
Dr Raj de Silva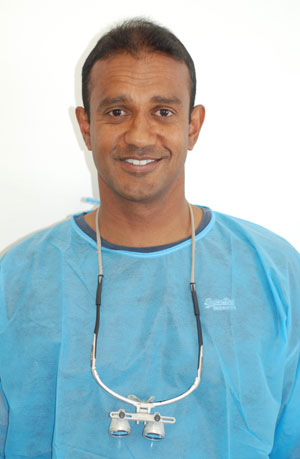 Dr Raj de Silva grew up in Newcastle attending Kotara High school before completing his dental degree from Sydney University in 1996.
Raj has travelled extensively; studying Cosmetic Dentistry and Reconstructive Dentistry and brings knowledge from leading cosmetic dentists in the USA and UK to his patients in Newcastle. Raj also attends many local and national dental seminars and conferences, which keeps him in touch with the latest technologies in dentistry.
Raj is a keen surfer/snowboarder and enjoys all sports. He is married to Nicole and has two girls attending school.
Raj is available at Newcastle Sleep Dental by appointment only.